Hytronik Smart Car Park Lighting Solution
Installing new or retrofitting intelligent energy saving car park lighting could not be easier with Hytronik.
Hytronik sensors with RF Wireless transmission control give you distributed intelligence with a similar capability to DALI and C-Bus systems, but without the need for CAT5 cabling and computer based programming software.
This reduces your installation costs and eliminates the need to have a laptop close at hand.
The Hytronik HC018V/RF is a master RF wireless unit with built-in motion sensor, daylight sensor and dimming controller. When used in conjunction with Hytronik HC024RF dimming control slave units it provides tremendous flexibility for carpark lighting installations.
The flexibility is achieved through RF communication. RF groups are set by means of a rotary switch. There is a built-in DIP switch to set the daylight threshold, motion-detection hold time, standby-dimming level & standby period settings.
Basically, all that is required to set up the devices is a screwdriver.
The following image shows how Hytronik sensors could be used in a typical smart car park lighting solution.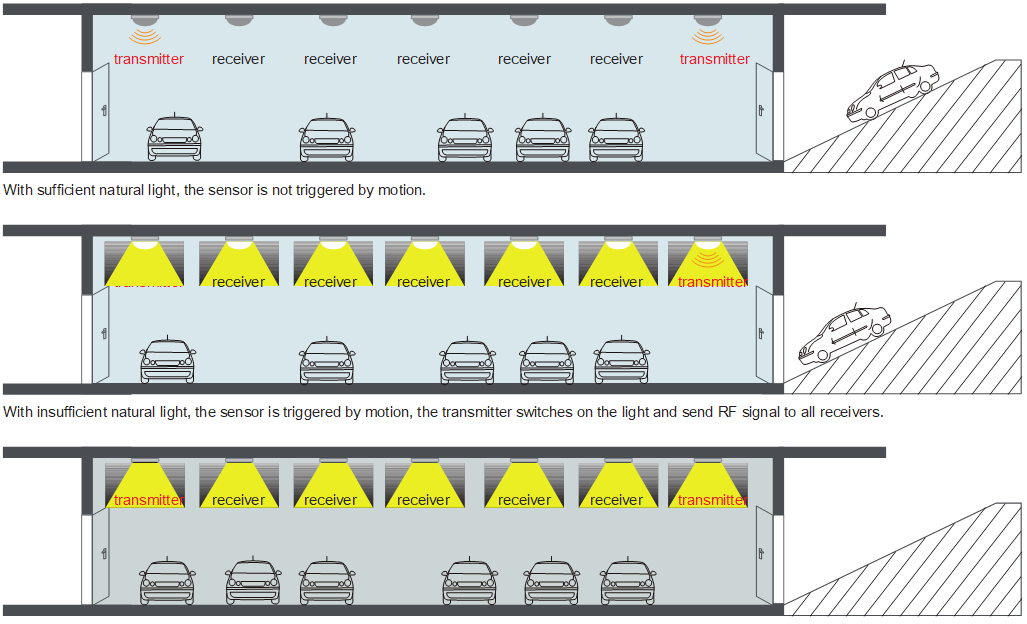 If there is sufficient ambient light, then any detected human or vehicle motion will be ignored.
When there is insufficient ambient light, any motion detected by the HC018V/RF will trigger all slave units in the group to illuminate the parking area at maximum intensity.
After no further motion is detected the lighting will remain on at maximum intensity for the hold time.
When this period ends, the lighting is dimmed to the preset standby-dimming level for the duration of the standby period, after which time the lighting is turned off altogether.
Energy savings are achieved by having the lighting at maximum only when it is needed and subsequent controlled dimmed lighting for a period for safety and security.
HC018V/RF master and HC024RF slave features include:
RF transmission range (30 metres indoor, 100 metres outdoors)
The master unit can trigger an unlimited number of slaves within transmission range
Daylight sensor threshold levels: Disable, 50 lux, 10 lux, 2 lux
Up to 16 different groups can be created by rotary switch
1 – 10 V outputs for dimming (10%, 20%, 30%, 50%)
Hold time settings: 5 sec, 30 sec, 1 min, 5 min, 10 min, 20 min, 30 min
Standby dimming levels: 10%, 20%, 30%, 50%
Standby periods: 0 sec, 10 sec, 1 min, 5 min, 10 min, 30 min, 1 hr, ∞
The 1 ~ 10VDC dimming output control means the Hytronic HC018V/RF and HC024RF can be used with any MEAN WELL LED driver that features MEAN WELL's patented 3-in-1 dimming.
ADM can provide expert support with choosing the right Hydronik products for all carpark installations.