Lutron LX-1128SD Light Meter Product Review
The Lutron LX-1128SD Light Meter can be used to measure the intensity of light within the visible range as perceived by the human eye, including the Lux levels of LED lighting.
At less than $350, this light meter gives you accurate, reliable readings at a very low cost.
It must be stressed that this light meter cannot measure the light intensity of beyond the visible range.
ADM road tested the LX-1128SD to see how easy it is to use.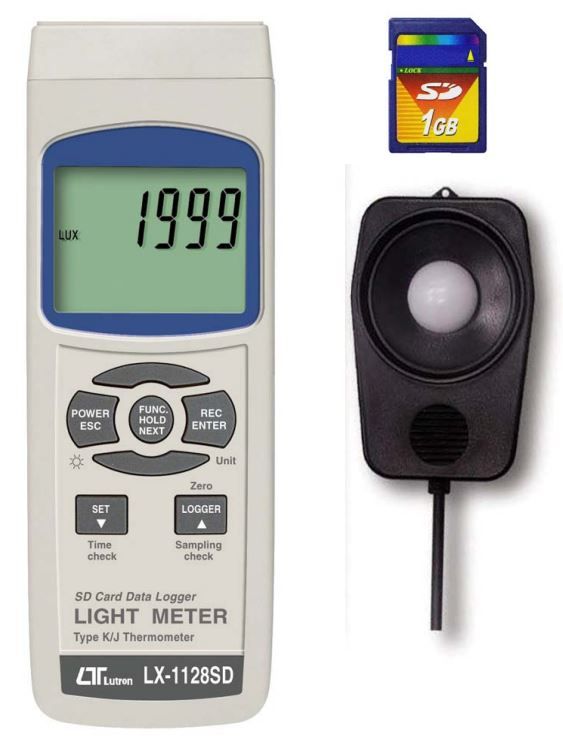 FIRST IMPRESSIONS
On first use you will need to set the date and exact time. A task which is no more difficult than setting your bedside alarm clock. With the light sensor plugged in the light meter starts reading straight away.
The tethered light sensor does mean that two-handed operation is required. However, it also enables you to orientate the meter so that you can see the readout from a position, where you are not blocking the incident light.
Sensibly, the cover for the light meter is tethered to the sensor handle by a thin chain, so you are not going to accidentally leave it behind at a job.
RECORD FUNCTION
The Lutron LX-1128SD's record function is really handy for capturing maximum and minimum values over a recording period. 
Press the 'Rec' button to start recording, press it again to view the 'Max' value, press again to view 'Min' value, press the Hold button to continue recording. 
Higher maximum and lower minimum values will automatically be captured if they exceed the existing values.
One thing to be careful of is if the meter is in record mode, it cannot be turned off until recording has been stopped and the meter has been taken out of record mode.
HOLD FUNCTION
We found the Hold function to be remarkably easy to use.
You simply press the Hold button to save the reading whilst looking for a pen to jot it down in your notebook, or if you need to take a call on the mobile, so as not to forget what the reading was.  Press Hold again to release and continue recording.
SD CARD READER AND DATALOGGING
Using the built in SD card reader is extremely easy.
Simply insert a pre-formatted SD card and you can start straight away with recording and logging data. 
Just press the 'Rec' button to start the recording, press the 'Logger' button to start logging, press it again to pause logging, press it again to continue logging. To stop logging and recording hold the 'Rec' button for 2 seconds.
If you decide you want to swap from automatic datalogging to manual datalogging you will need to go into the setup routine, scroll through date, time, auto power, beep, thermometer type and temperature unit settings to change the sampling time to 0 seconds. 
To swap back to automatic datalogging requires the same procedure.
With manual datalogging, it may take a bit of practice to get the sequence of button presses correct to first set a data record number to be logged and then to log the associated data. 
This feature is perfect for applications such as capturing light levels at different locations in an office, or building.  You can allocate numbers to various positions in an office space and move sequentially from one to the other, whilst concurrently incrementing the data record number and capturing the lux level at each position.
Transferring the SD card from the LX-1128SD to a laptop is straight forward and the measurement data is opened in a spreadsheet with date, time, measurement value and measurement unit nicely tabulated, so that you can easily perform data analysis and create charts for better visualisation.
ACCESSORIES
The instruction manual that is supplied with the Lutron LX-1128SD light meter is relatively easy to follow. However, if you do run into any difficulties, please don't hesitate to call Test Measurement Australia on 1800 632 693.
The Lutron LX-1128SD light meter comes complete with a Cordura-like pouch with shoulder strap and side pocket to store spare AA batteries or a torch.
The Lutron LX-1182SD requires 6 x AA batteries, which are not included.
CONCLUSION
The Lutron LX-1128SD offers excellent value for money and gives accurate readings.
Overall it is easy to use, with the only niggle being the number of steps required to switch between automatic and manual data logging.
If you are looking for a good inexpensive light meter for measuring lux levels within the visible range, including from LED lighting this is worth considering.
IS THIS INFORMATION USEFUL?
If so, why not share it with your peers and colleagues. Simply click on the blue LinkedIn share icon below.