MEAN WELL DLC-02 DALI 2 Controller
ADM is now stocking the MEAN WELL DLC-02 DALI 2 controller. 
This is a cost-effective solution for applications where basic automation using the DALI 2 protocol is required. 
The DLC-02 features Full Master control with an incorporated DALI bus power supply, which eliminates the need to pay for extra components. 
Configuration is straightforward with easy-to-understand parameters for programming, which can be done through a built-in web browser. Otherwise, basic parameters can be set using the buttons on the device. 
The DLC-02 can be used in conjunction with MEAN WELL's LCM and PWM series DALI 2 LED drivers. It will accept inputs from 2 x 64 DALI ECGS and 12 DALI2 input devices. 
There are 16 scenes per channel that you can set. 
There are 4 x 240V/5A relays, which can be programmed separately. 
These can operate any KNX device, such as a roller blind motor. The diagram below shows an example Hotel room application.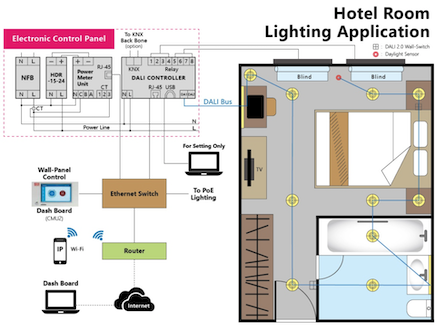 The DLC-02 comes with a 5-year manufacturer's warranty.  
For further information, please contact ADM.  
IS THIS INFORMATION USEFUL?
If so, why not share it with your peers and colleagues. Simply click on the blue LinkedIn share icon below.