Hytronik Bluetooth Intelligent Lighting Control: Energy Efficiency Made Simple
Hytronik's new Bluetooth wireless mesh transceiver nodes make energy efficient lighting for car parks, stairwells and corridors simple.
Hytronik has released two new Bluetooth wireless mesh transceiver nodes, the HBT01 and HBT02.
Hyrtonik HBT01
The HBT01 combines in a single unit a mesh network transceiver, microwave occupancy sensor and daylight harvest photocell.
Hytronik HBT02
The HBT02 incorporates the mesh network transceiver with daylight harvest functionality.
Dimming Options
Both the HBT01 and HBT02 may be used with DALI or 1-10 V dimming LED drivers via the HCD038 and HC038V control modules.
The Hytronik Bluetooth App
Using the Hytronik Bluetooth App on iOS devices, the two HBT nodes are easily configured as individual nodes or grouped in a mesh network saving on integration costs and installation times.
To create a group, you first pair all HBT nodes with the App, then each node is added to the group.
Stairwell Lighting Application
In a stairwell application, the Hytronik HBT01 nodes are used on each landing and all the nodes' lux level, hold time, standby time, standby dimming level and motion detection range are configured using the group settings.
The group settings configuration is automatically transmitted to all the nodes in the group, via the mesh technology.  There is no need to climb the stairs in a multi-storey building to download the configuration individually to each node, saving you considerable installation time.
Corridor Lighting Application
To add a corridor function on each level, a new group is created, with a Hytronk HBT01 installed at entry and other strategic points along the corridor to detect motion. All luminaires in-between have the HBT02 node acting as a slave unit and modulating the lux level according to the daylight harvest setting. 
The HBT01 node on each level's stairwell landing can also be incorporated into the new group, serving both the stairwell and corridor function groups simultaneously. 
Anyone of the HBT01 motion detection nodes on a level will activate all luminaires in the corridor according to the corridor group settings. 
Once again, Bluetooth mesh technology takes care of broadcasting motion detection to all nodes in the corridor, regardless of its length, provided the adjacent Bluetooth nodes are within broadcast range of one another.
Car Park Lighting Application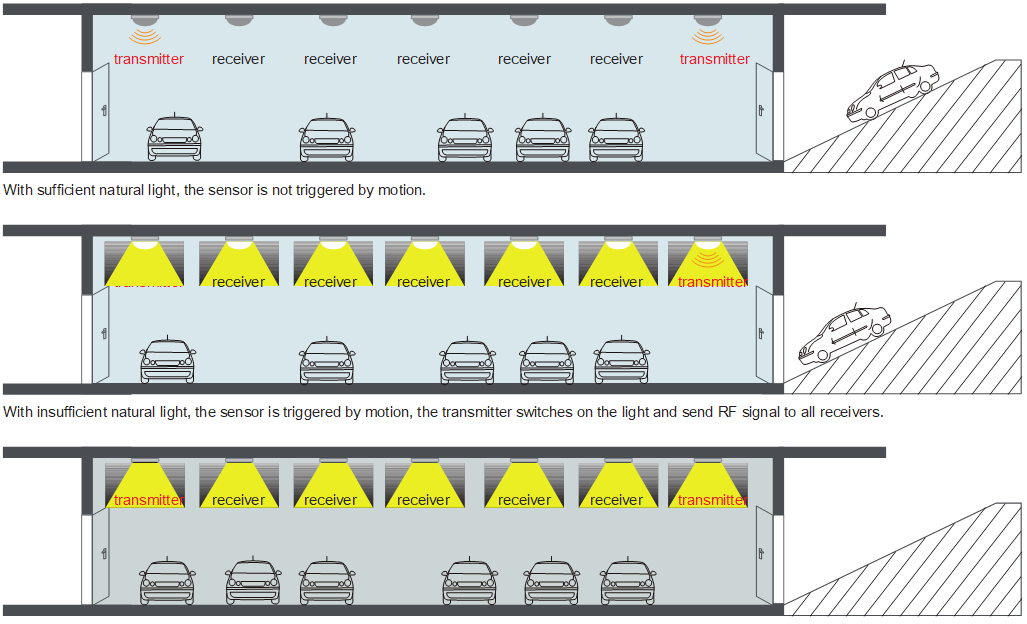 Similar functionality for the stairwell and corridor can be applied to a car park application.
Summary and Further Information
In summary, the Hytronik Bluetooth App greatly simplifies configuring individual nodes or groups of nodes with a few keystrokes.
Combined with the HBT01 and HBT02 nodes with Bluetooth wireless mesh technology, building intelligent lighting networks is made logical, effortless and saves on integration cost.
For further information call ADM on 1300 236 467