Product Review: Hytronik HIM32 & HIM34 Daylight Harvesting Sensors
The Hytronik HIM32 and Hytronik HIM34 are combined motion / daylight harvesting sensors, which have been designed for use with high-bay lights in retrofit applications and new installations.
Both have exactly the same features, the only difference being that the HIM32 controls 1-10V dimmable LED drivers and the HIM34 controls DALI dimmable LED drivers.
Key Features
Daylight Harvesting allows you to optimise the available daylight in the workspace. As well as using the sensor to switch lights on and off as needed, or it can be configured to dim to a pre-set level after a set period of no motion being detected.
These sensors incorporate both PIR and microwave motion detection. Both technologies offer have their own advantages and the sensors can be set to respond either when both are activated, or when either one or the other is activated.
This means one model of sensor can be used for many different applications.
Advantages of Microwave Motion Sensing
Sensitive to minimal movement
Sensitive to radial movement
Can be reflected by objects, allowing you to cover a large area
Resilient to heat sources, smoke detectors and air conditioners
Disadvantages of Microwave Motion Sensing
Penetrates walls, can pick up motion on the other side of a wall
Can be falsely triggered by motion behind the sensor
Can be triggered by fans, water pipes and lifts
Advantages of PIR Motion Sensing
Does not penetrate solid surfaces, so ideal for a contained area
Sensitive to tangential movement
Does not activate to motion from a 'non-heat' source
Disadvantages of PIR Motion Sensing
Can be triggered by a heat source
Configuring the HIM32 and HIM34 Sensors
There are two methods for configuring the HIM32 and HIM34 sensors.
Rotary Switch
A single rotary switch gives you 16 different pre-programmed control sequences. These offer you a combination of different hold times, daylight sensitivity, standby times and standby light levels.
Remote Control
Using the Hytronik HRC-11 remote control you can configure the following parameters:
Lux level
Hold Time
Standby Time
Standby Dimming Level
Motion Detection Range
The HRC-11 is well worth the investment as it obviates the need for a scissor lift to get up to the ceiling space to adjust these parameters, greatly reducing installation costs and improving employee safety.
Mounting Options
There are three different mounting options available: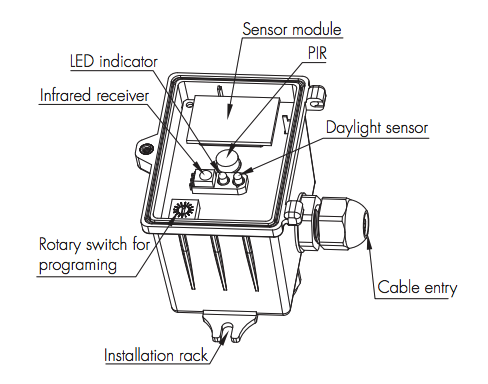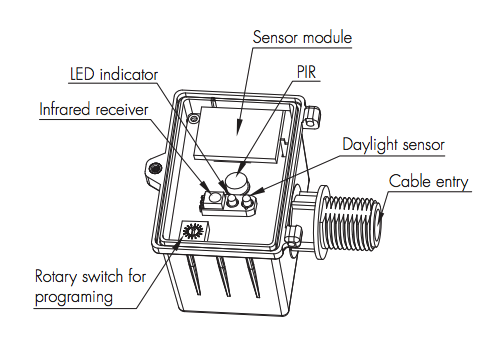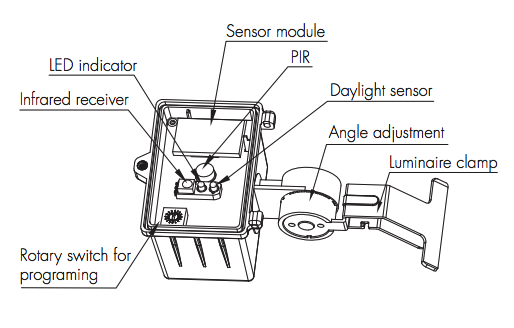 These different options give you maximum installation flexibility. 
The Clamp Mount fixing is preferred by most installers as the fixing enables the sensor to be mounted directly to the luminaire without the need for drilling holes and screwing down.  It also incorporates a hinge to adjust to the best detection orientation.
Lens Options
Each sensor is supplied with three lenses:
Round
Across Aisle
Along Aisle
These provide a different detection area for the PIR sensor, so that you can optimise the performance of the sensor according to the application at hand.
Price and Availability
ADM carries stock of both the HIM32 and HIM34. These daylight harvesting sensors are remarkably cost effective. For pricing information please call 1300 236 467.