Easy to Install Motion Sensor LED Lighting from MEAN WELL
ADM stocks a nice simple solution from MEAN WELL to power up and and dim LED lights.
This is ideal for both securtity and energy savings applications.
Leaving lights on permanently to light up areas such as dark alley ways, concealed doorways, loading docks, warehouses etc. can use quite a bit of power and leave you with a significant power bill.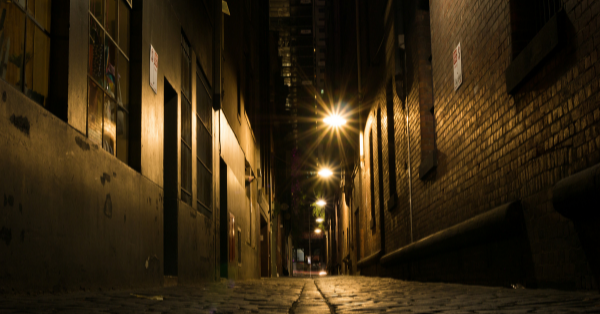 This cost can be reduced by both using LED lighting to save energy and having it only come on, when someone is approaching the area in question.
The simple solution is to use the MEAN WELL PIR-045 motion sensor, in conjunction with a MEAN WELL LCM series LED driver (LED power supply).
The MEAN WELL PIR-045 is a photoelectric motion sensor, which provides a 10VDC analogue signal when anyone is detected moving about within the area being monitored.
This 10V signal is transmitted to a MEAN WELL 0 to 10V dimmable LED driver, to switch and control multiple LED lighting units simultaneously.
The PIR-045 requires an external 12~24VDC power source. No additional 240VAC power source is required.
The below LED drivers are stocked by ADM and can be supply the required 12V-24V power source via their auxiliary output. They can also be controlled by the PIR-045's 10V analogue signal:
With both the MEAN WELL LCM-40 and MEAN WELL LCM-60, you can have the PIR-045 control up to 10 LED drivers synchronously.
Wiring the MEAN WELL PIR-045 to the LED driver is quite straight forward. Below is the wiring diagram for a typical installation using the LCM-40, or LCM-60.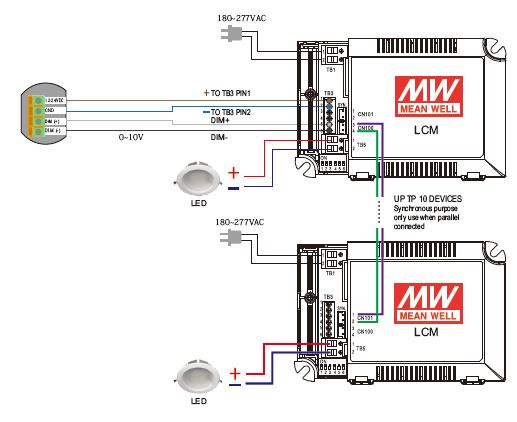 | Connection to be made | Terminal Block Number | Pin Number |
| --- | --- | --- |
| Incoming AC mains (L) | TB1 | Pin 1 |
| Incoming AC mains (N) | TB1 | Pin 2 |
| DC Output to LED Light +ve | TB5 | Pin 1 |
| DC Output to LED Light –ve | TB5 | Pin 2 |
| Auxiliary DC Output to PIR-045 +ve | TB3 | Pin 1 |
| Auxiliary DC output to PIR-045 –ve | TB3 | Pin 2 |
| 10V Dimming Output from PIR-045 +ve | TB3 | Pin 5 |
| 10V Dimming Output from PIR-045 +ve | TB3 | Pin 5 |
| Sync control output to other LCM-40/60 | Connector CN100 | (connects to CN101 on slave LCM-40/60)* |
 *up to 10 LCM-40/60s can be controlled synchronously with 1 acting as the master, and 9 others as slaves.
There are 3 simple controls on the side of the MEAN WELL PIR-045 photoelectric sensor, as shown in the diagram below.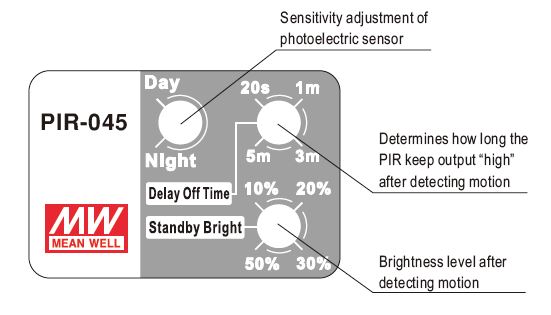 These allow you to set:
The sensitivity of the sensor
The duration the light stays at 100% brightness after motion has been detected
The default output level when motion is no longer detected.
Once you have these set how you want them, the PIR-045 will remotely control the MEAN WELL LED driver, so that the LED lights come on under the circumstances you want them to and set the light back to the required default brightness level, once motion hasn't been detected for the set length of time.
If you have any questions about using the MEAN WELL PIR-045, then please do not hesitate to contact ADM. A member of our expert team will gladly answer any questions that you may have.
If you would rather send us an E-mail, then please use the 'CONTACT' link above.
Was this Information Useful?
Why not share it with your peers and colleagues? Simply click on the blue LinkedIn share icon below.