Installation of MEAN WELL HLG and ELG 'AB' LED Drivers
You may already be aware that ADM stocks a comprehensive range of the MEAN WELL HLG and ELG series LED drivers in our four warehouses around Australia. 
What Does the AB Suffix on a MEAN WELL LED Driver Part Number Mean? 
Customers who are familiar with MEAN WELL's HLG and ELG series LED drivers may have noticed that some models have an 'AB' suffix to the part number.

MEAN WELL HLG Series LED Driver

MEAN WELL ELG Series LED Driver
Up until recently the following versions have been available: 
| Suffix | Description |
| --- | --- |
| No Suffix (Blank) | Fixed output, IP67 |
| 'A' Suffix | Output voltage and current can be trimmed via potentiometers. IP65  |
| 'B' Suffix | 3-in-1 dimming 0-10V (or 1-10V depending on model), PWM, or resistance dimming. IP67  |
| DA (ELG only)  | DALI dimming. IP67  |
The 'AB' suffix denotes that the LED driver has both the 3-in-1 dimming function and the facility to trim the output current and voltage, via the built-in potentiometers.  
The HLG-320H series is an exception, because only the output current can be adjusted on these models. 
You can browse the product range by following the below link: 
It should be noted that the 'AB' models have an IP65 ingress protection rating.   
Benefit of using an 'AB' Model 
The 'AB' models are particularly useful if you are working on applications where voltage drop could be a consideration, or if you need a constant current LED driver that is dimmable.  
One method of overcoming voltage drop is to use a LED driver that allows you to trim the output voltage. This allows use to 'wind up' the output voltage a little to compensate for the voltage drop, so that the correct voltage is delivered to the LEDs. 
MEAN WELL's constant voltage HLG and ELG LED drivers can also operate in constant current mode. The current output is equal to the driver's maximum rated current output. When using an 'AB' model you can adjust the current output to the level required.  
The product data sheets show the range of adjustment permissible and the forward voltage range a constant current output can be delivered at. In MEAN WELL data sheets, the forward voltage range is noted as 'constant current region'. 
3-in1 dimming allows the LED driver to be controlled with 0-10V dimmers (1-10V on some models), via a PWM type controller, or by applying resistance. They can also be dimmed via DALI or push dimmers with the MEAN WELL DAP-04 DALI converter.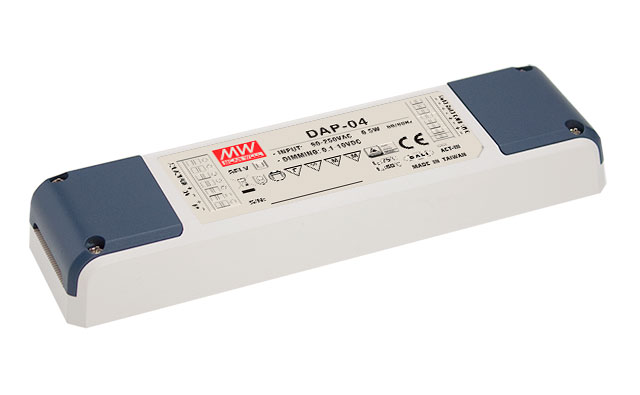 If you do not want to use the dimming function on an AB version MEAN WELL LED driver, there is something you need to be aware of when installing it. 
The two dimming wires need to be isolated from each other. Otherwise if they touch, the LED driver will dim down to its lowest level. This is zero output on some models and 10% on others.  
The simplest way to do this is to cut the two dimming wires, so that they are flush with the end of the cable, and fit a Power Source EC-12-4 heat shrink end cap to the end of the cable to act as an insulator. When fitted correctly, these will give you an IP68 ingress protection rating.  
You can now install the LED driver, knowing that it will give 100% output.  
If you have any questions about installing MEAN WELL LED drivers, please do not hesitate to contact ADM on 1300 236 467.