MEAN WELL Led Drivers for Constant Current LED Strip
There is an ever growing demand for constant current LED strip. This is because it is seen as the ultimate product for long term use, which makes it the preferred choice for installers, who want to offer their customers the very best.
One of the key benefits of constant current LED strip is that longer lengths can be used without voltage drop. Of course this means that there is also no drop off or change in the colour temperature because LEDs are current driven devices, which fare better when a stable constant current is applied.  When driving LEDs with constant current, each LED performs at its peak and, importantly holds a steady temperature which prolongs the life of the LED.
We take a look at the range of MEAN WELL constant current LED drivers available, and discuss the benefits each model has to offer.
High Power Constant Current LED Drivers
The MEAN WELL HLG-C and ELG-C series of LED drivers are ideal for applications that utilise high powered constant current LEDs or LED strip. A 240 Watt and 320 Watt model has just been added to the range.
Many of ADM's customers will already know that the MEAN WELL HLG series LED drivers are available in three versions:
HLG-C Version

Key Features

Standard Fixed Output

IP67 Ingress Protection
7 Year Warranty
Rugged Aluminium Housing

Dimmable Version
Adjustable Version

Not to be confused with the dimmable version. There are 2 potentiometers for the user to adjust the fixed output voltage and output current.
IP65 Ingress Protection
The ELG series has the added benefit of being availabe with a built-in DALI interface, which dispenses the need for the additional DAP-04 DALI to PWM converters.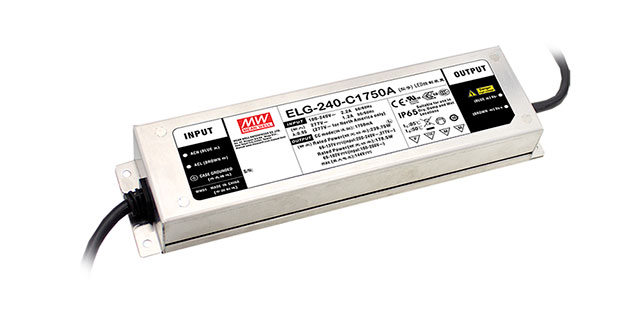 The standard constant voltage HLG  and ELG LED drivers can also be used in constant current mode. This further expands the range of output currents available to you.
You need to select a model, where the maximum current output shown in the data sheet is the actual current you need to drive your LED light fittings.
Once the load on the LED driver reaches the top of its current range, it will 'clamp' the current output and adopt the behaviour of a constant current LED driver. Meaning it will now vary the voltage to maintain the 'clamped' current output in the event of fluctuations in the incoming AC supply.
If a model with the required maximum current output is not available, then the adjustable version should be considered.
Dimmable LED Drivers
As well as the dimmable version of the HLG series LED drivers, ADM also stocks the LCM series.
These are available in 3 output options; 25 Watt, 40 Watt and 60 Watt. There are three different dimming options to select from:
Standard Models:
LCM-25, LCM-40, LCM-60

DA Models:
LCM-25DA, LCM-40DA, LCM-60DA

KNX Models:
LCM-25KN, LCM-40KN, LCM-60KN

0-10V Dimming
PWM Signal
Resistance Dimming

DALI Dimming
Push Button Dimming
The key advantage of the Mean Well LCM series is that it has selectable current outputs. This means the same model LED driver can be used for a variety of different LED strips.
The output current is simply selected using the dip switches under the removable blue panel. A chart is printed on the LED driver to show you the position of the switches for each output option. This makes it remarkably easy to install.
Triac Dimmers
If you want to dim your LED strip from a standard TRIAC type wall plate dimmer, then you will need to opt for the Mean Well PCD series LED driver. This is the only series in the MEAN WELL range that has AC phase cut dimming, which is needed in order to operate with this type of dimmer.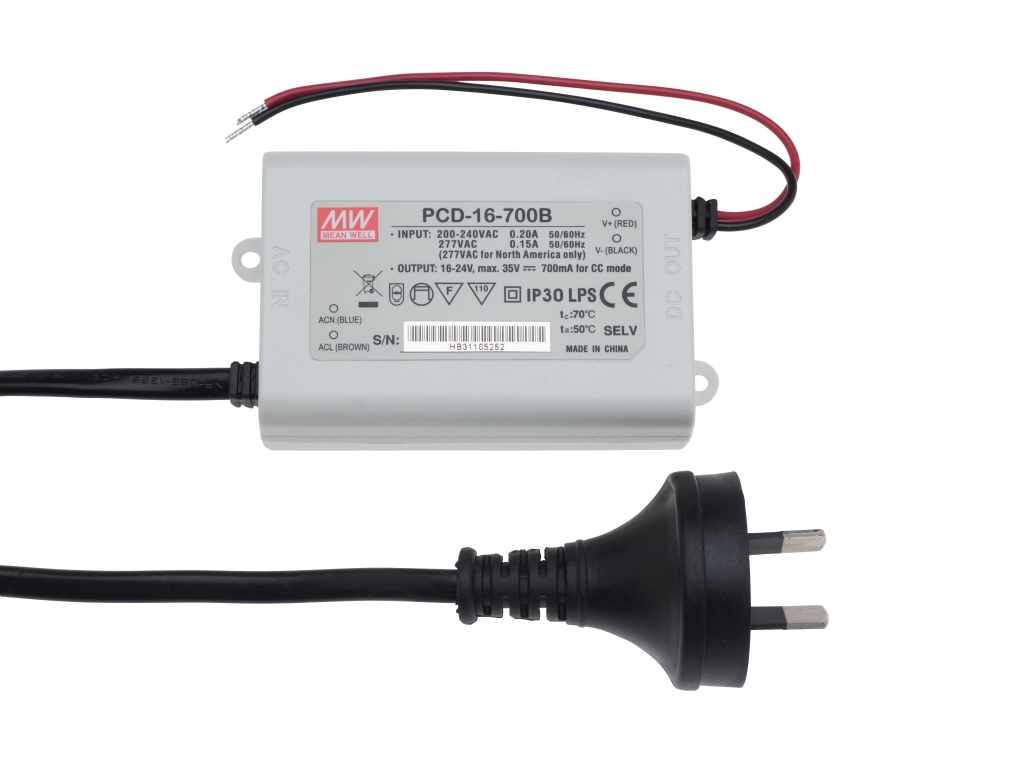 As you can see ADM stocks a wide range of MEAN WELL LED drivers that are suitable for use with constant current LED strip. If you cannot find what you are looking for on our website please contact ADM and speak to one of our expert team, who will gladly discuss the most suitable LED driver for your particular application.
Was this Information Useful?
Why not share it with your peers and colleagues? Simply click on the blue LinkedIn share icon below.