In Stock! Dimmable Constant Current LED Drivers with Selectable Output Current
ADM stocks the MEAN WELL LCM series dimmable constant current LED drivers with selectable output current. 
The wide output voltage range of each LED driver means that they can power just a few, or many LEDs.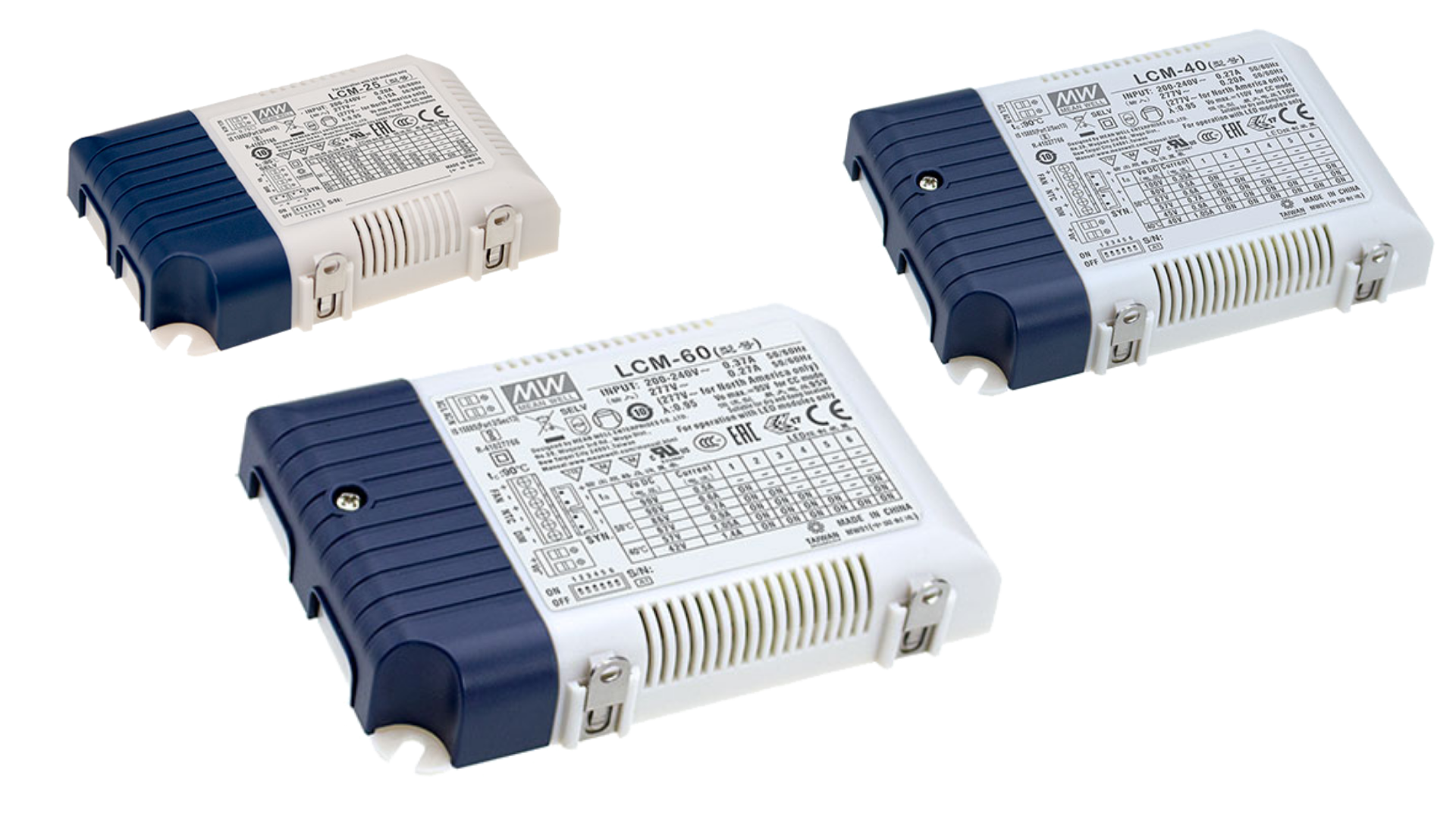 There are three different dimming types available, in three different power output options.   
Dimming Types 
3-in-1 Dimming 
DALI / Push Dimming 
KNX
3-in 1 Dimming 
MEAN WELL 's unique 3-in-1 dimming function accepts a 0-10V input, a PWM signal, or can be dimmed by applying simple resistance. The LED driver automatically detects which type of signal your controller is using and dims accordingly. 
DALI / Push Dimming 
The DALI version can be controlled directly from a DALI lighting system, or a momentary push button. 
The below table shows how the LED driver will respond according to the type of input from the push button. 
| Action | Duration of Action | Funtion |
| --- | --- | --- |
| Short Push | 0.1 ~ 1 second | On / Off |
| Long Push | 1.5 ~ 10 seconds | Dim up or down. Each separate long push changes the dimming direction |
| Reset | > 11 seconds | Resets the light output to 100% |
KNX Interface
The LCM-25KN, LCM-40KN and LCM-60KN all have a built in KNX interface, so that dimming can be controlled by a KNX based building automation system.
Power Options 
The LCM series constant current LED drivers are available in 25W, 40W and 60W models. 
Synchronised Control 
You can synchronise up to 10 LCM LED drivers, with one acting as the master and the other 9 as slaves. 
Selectable Output Current 
Choose from many different output current options using the built in DIP switch. The wide output voltage range of each power supply will cover only a few or many LEDs.  The following table details the output current options available on each model:
| Models | Selectable Current Output Options |
| --- | --- |
| | 350mA, 450mA, 500mA, 550mA, 600mA, 700mA (default), 800mA, 900mA, 1050mA,  |
| | 350mA, 450mA, 500mA, 550mA, 600mA, 650mA, 700mA (default), 750mA, 800mA, 850mA, 900mA, 950mA, 1050mA |
| | 500mA, 600mA, 650mA, 700mA (default), 750mA, 800mA, 850mA, 900mA, 950mA, 1000mA, 1050mA, 1100mA, 1150mA, 1200mA, 1250mA, 1300mA, 1400mA |
Due to the limited space on the product label not all of the options are displayed on the drivers themselves. The below tables show you the positions of current output options, not shown on the LED driver's label:

You can reduce your power supply stocks and maintain the ability to sell your full range of light fittings. 
The LCM series LED driver is backed by a 3-year warranty. 
For further information contact ADM.   
Is this Information Useful?
If so, why not share it with your peers and colleagues. Simply click on the blue LinkedIn share icon below.