What is a DC to DC LED Driver?
When talking about LED drivers most people would automatically think of the type that takes AC power and converts it to either a constant DC voltage, or a DC voltage maintained at a constant current.
However, there are LED drivers that can take a DC voltage and convert this to a constant current output. These are known as DC to DC LED drivers.  
Types of DC to DC LED Driver 
There are three types of DC to DC LED drivers.  
Step up LED drivers take a DC voltage and give a constant current output at a higher voltage than the original power source. These are also known as 'boost' LED drivers.  
Step down LED drivers do the reverse in that they give a constant current output at a lower voltage than the original power source. These are sometimes referred to as 'buck' LED drivers. 
Buck-Boost LED drivers can do both and are used in low power applications. 
DC to DC LED Driver Applications 
Typical Applications in Australia 
There are several reasons why you would choose to use a DC-to-DC converter.  
For example, the lighting circuit may be powered from a DC source such as a battery or solar panel, and you need to provide a constant current to your LEDs.  
Or you may have multiple luminaires that require constant current LED drivers, and it is far more cost-effective to use one AC to DC constant voltage LED driver to power several DC to DC LED drivers. 
Application Example 
Solar Powered LED Lighting for Outdoor Public Spaces 
A solar panel charges a battery via an MPPT controller when there is enough sunlight.  
12v DC or 24v DC batteries are normally used to power the streetlights both for safety, due to the fact only a low voltage is present, and because they have a more stable charging performance.  
At night, when the light switches on, a boost DC-DC LED driver within the lamp (such as the LDH-45-1050WDA), boosts the voltage from the 12V or 24V battery to supply constant current power to the LEDs.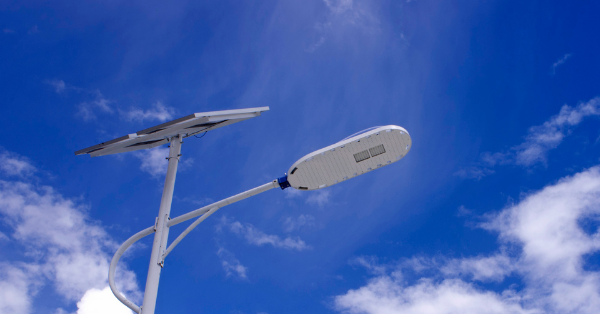 This same application can be replicated to power LED lighting in any other scenario where you may want to power LEDs from a DC power source. 
LED Luminaires 
Typically, LED luminaires are designed so that a string of LEDs are powered from a linear constant current source, as shown in the following diagram: 
This is done to ensure the current range required for each channel remains at a level that will not overdrive the LEDs and shorten their life span.  
The constant current source is provided by a linear IC or a DC-DC LED driver.  
However, with the optimisation of LED technology and the growing demand for higher efficiency lighting, you will find that many high-powered LED luminaries are directly driven as per the diagram below: 
So, the use of DC to DC LED drivers in such applications may diminish.  
You can browse our extensive range of DC to DC LED drivers on this website. Please do not hesitate to contact ADM for further information.