KNX and Building Automation Products Available in Australia
ADM offers a wide range of KNX and building automation products from reputable manufacturers such as MEAN WELL and Vimar.
There are two factors driving the demand for KNX based automation in buildings in Australia.   
Energy efficiency  
User comfort and convenience  
The World is grappling with how to reduce carbon emissions. On one side of the ledger is the method of electricity generation, and on the other reducing the rate of energy consumption.   
KNX is an open standard for commercial and domestic building automation. KNX devices can manage lighting, blinds and shutters, HVAC, security systems, energy management, audio video, white goods, displays, remote control, etc. 
KNX enables a high level of control to reduce energy consumption in residential and commercial buildings.  
Before the introduction of KNX, building control systems tended to be complicated in terms of electrical wiring, because each type of device needed its own physical control cable as shown in the following diagram: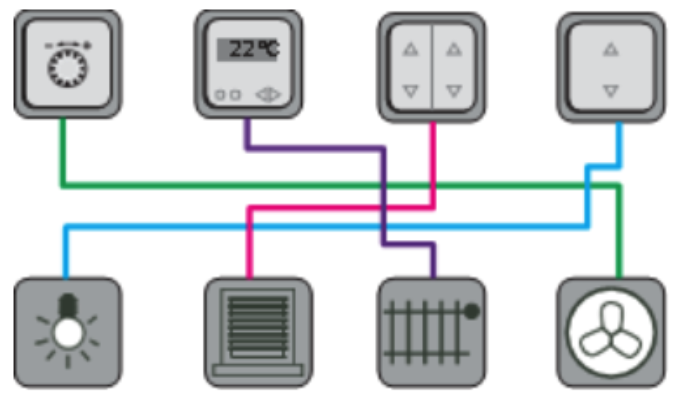 Designing and installing such a system was time consuming and expensive, prohibiting its implementation in many projects. Not to mention the additional fire risk that would needed to have been managed because of the high density of cabling.  
The advantage of the KNX system is that it is a two-wire bus routed installation, transmitting the signals between devices in parallel along the 240 VAC mains wiring.  
This reduces the amount of wiring required to install a building automation system. Of course, this also reduces the cost of installation and ongoing maintenance.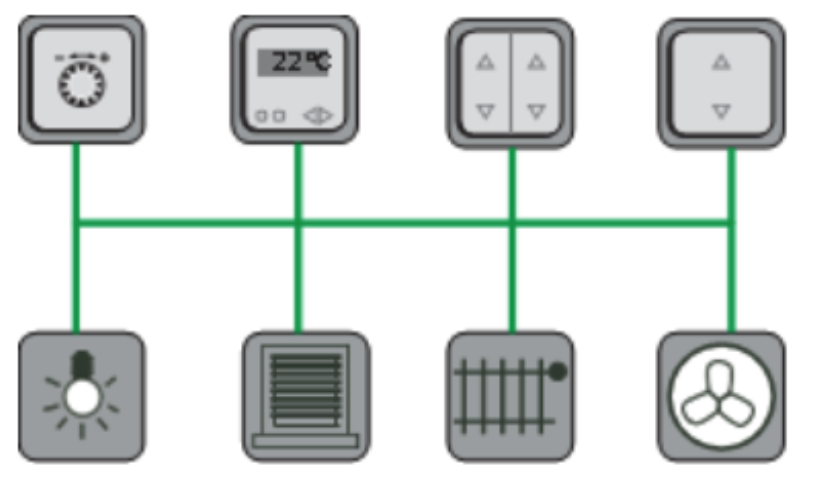 KNX Products from MEAN WELL 
KNX Bus Power Supplies  
The MEAN WELL KNX-20E-640 was the very first KNX device that MEAN WELL introduced.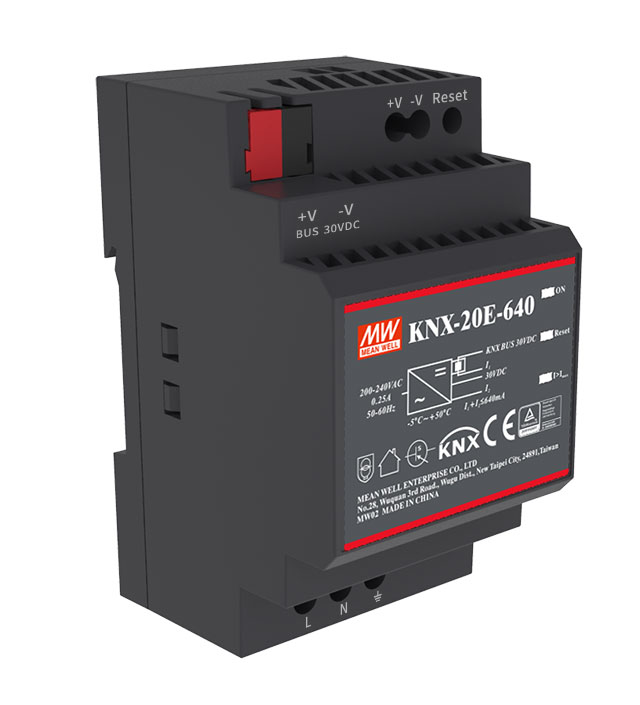 The beauty of KNX is that it is suitable for both straight forward installations, and complex projects.  
Regardless of the type of installation, a dedicated KNX power supply is needed to power the KNX Bus.  
A standard switch mode power supply cannot be used for this purpose.  
To explain why this is the case let us look at a simple window blind control application. If you simply connected the control button to the motorised blind nothing would happen. The bus is not powered, so no command can be transmitted from the control button to the motor.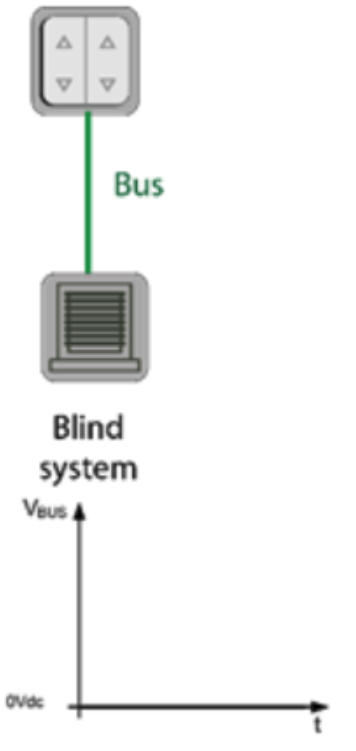 If you installed a standard switch mode power supply the button could transmit its control signal. However, because the power supply cannot generate a complete and proper signal the blind system's actuator is unable to receive or respond to the control signal.
A KNX Power supply with an integrated choke needs to be used. When the button transmits the active pulse signal onto the Bus, the KNX Power supply will immediately respond with an equalisation pulse due to the integrated choke.   
The active and equalisation pulse is then combined to generate a correct KNX signal representing "0" in the digital world. The combined waveform is finished within 104 µsec, which is equivalent to 10 kHz. This is followed with another combined waveform for "0", or no waveform (just 30 Vdc) for "1" in the next 104 µsec.  
This "0" & "1" sequential numbering represents the actual function/command from the button to the targeted actuator of the blind system. As result, this simple KNX system can now operate properly.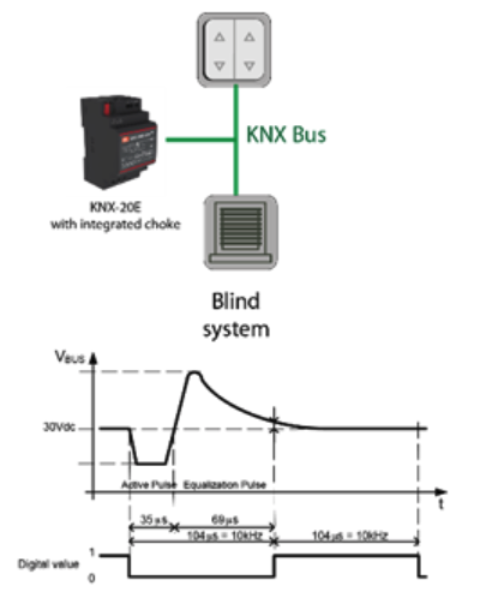 Other KNX devices, such as lighting, heating, HVAC, security...etc., work on the same principle, which means only one bus is required, allowing for a high level of design flexibility.   
Each KNX device consumes 10mA from the power supply when transmitting and receiving a signal on the bus. The KNX power supply is rated 640mA, allowing up to 64 devices to be controlled on one KNX bus.  
MEAN WELL KNX POWER SUPPLY WITH 1280MA OUTPUT  
Since the launch of the KNX-20E-640, MEAN WELL has expanded its range of KNX power supplies with the introduction of the KNX-40E-1280 KNX bus power supply. 
The KNX-40E-1280 gives customers the same high reliability, whilst remaining remarkably cost effective. The higher output current allows you to power more KNX devices on a line segment.  
One noticeable feature of the KNX-40E-1280 is its compact size. It is only 4 SUs (72mm) wide, compared to the 6 SU width you would normally associate with other KNX power supplies with a similar power output. So, it will not take up more real estate than necessary in the distribution board.  
Compact Size 
All KNX devices including the KNX power supply, input devices, and actuators are usually installed in a distribution board within the building.  
In the image below you can see a typical distribution board. The dimensions of the MEAN WELL's KNX devices have been designed according to the standard DIN 43880. This ensures installation uniformity.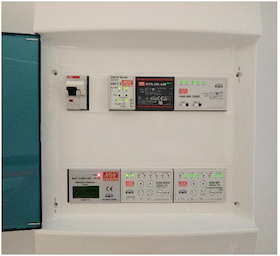 The width of the KNX device is denoted by one or multiple standard units (SU). Each single SU should not be more than 18 mm wide.  
Typically, a 640mA KNX Power supply will be 4 SU wide, in other words 54mmwide. Whereas a 1280mA KNX Power supply will be 6 SU (108mm) wide or more.  
The MEAN WELL KNX-20E-640 power supply is only 3 SU wide!  
This allows more room for other KNX devices to be accommodated inside the distribution board. 
MEAN WELL KNX Dimming / Lighting Control Actuator 
MEAN WELL's KNX actuators convert the commands received from sensors, automatic control switches or timers into actions, and form the interface between the KNX system and electrical devices such as lighting, window blinds and HVAC units.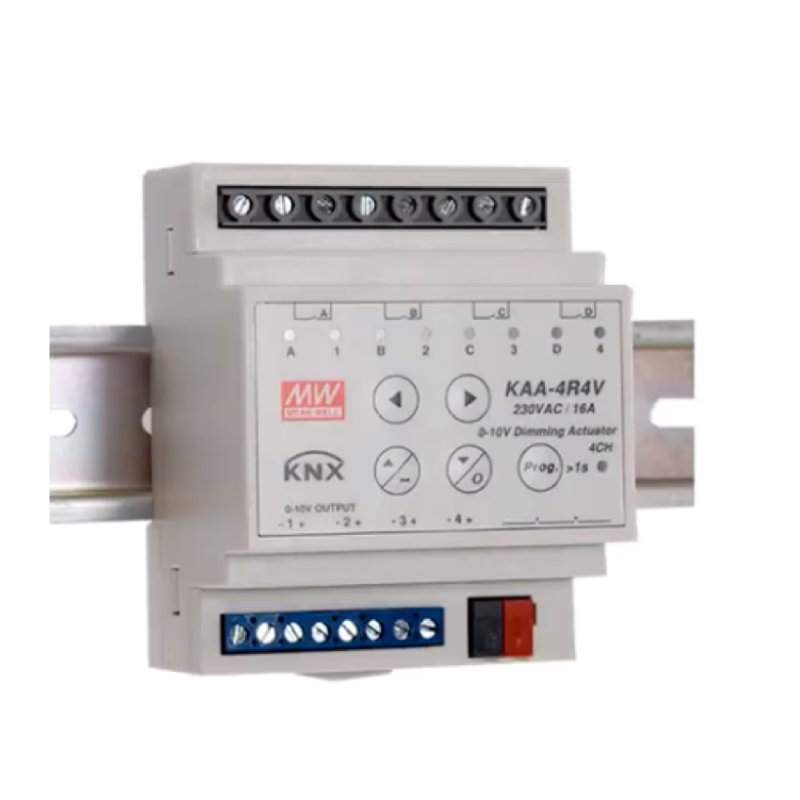 | Part Number | Description | KNX Data Secure*  |
| --- | --- | --- |
| KAA-4R4V  | 4 channels, 16A | No |
| KAA-4R4V-10  | 4 channels, 10A  | No |
| KAA-4R4V-S  | 4 channels, 16A | Yes |
| KAA-4R4V-10S  | 4 channels, 10A  | Yes |
| KAA-8R  | 8 channels, 16A   | No |
| KAA-8R-10  | 8 channels, 10A | No |
| KAA-8R-S  | 8 channels, 16A | Yes |
| KAA-8R-10S  | 8 channels, 10A | Yes |
 *for more details on KNX Data Secure read our blog post: HOW KNX DATA SECURE CAN PROTECT YOUR SMART HOME OR BUILDING 
The MEAN WELL actuators use high quality mechanical relays, as shown in the picture below, to turn ON or OFF any type of loads connected to them.  
A decent quality relay is key to ensuring high reliability for switching actuators used in a KNX building automation system.   
MEAN WELL uses relays that meet the EN60669-1 standard. This standard applies to switches for household and similar fixed electrical installations. MEAN WELL carries out rigorous testing to ensure their products exceed the requirements of this standard.  
MEAN WELL KDA-64 DALI / KNX Gateway 
The KDA-64 connects the KNX protocol to the DALI protocol, allowing control of DALI lighting gear from the KNX protocol.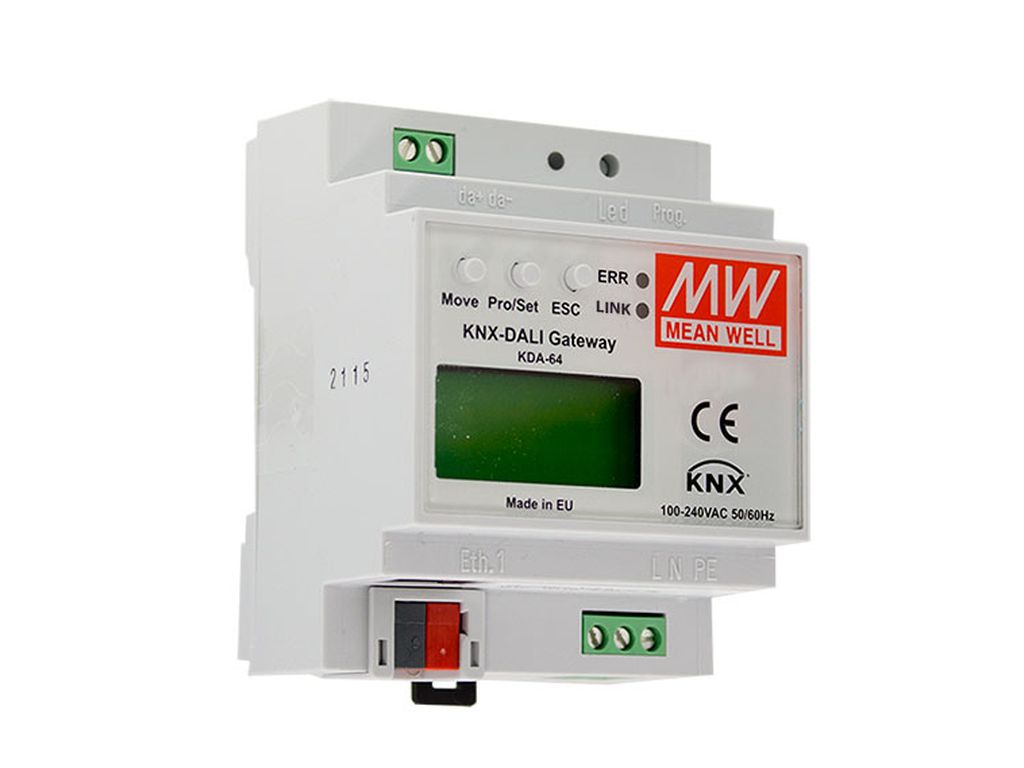 You can set various levels of regulation of the lighting, individually or in groups or use16 scenes pre-established scenes. 
As well as translating the commands of the KNX system to DALI, the KDA-64 also returns the status information of the DALI devices via KNX protocol, giving you bi-directional communication.  
Combined KNX DALI Gateway and Master Control 
The MEAN WELL DLC-02KN is cost-effective combined KNX DALI gateway and full master control. It incorporates a DALI bus power supply, which eliminates the need to pay for extra components.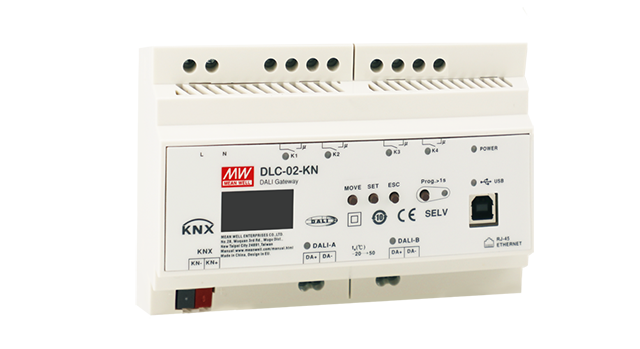 Configuration is straightforward with easy-to-understand parameters for programming, which can be set done through the free downloadable software or a built-in web browser. Otherwise, basic parameters can be set using the buttons on the device.  
The DLC-02KN can control 2 x 64 DALI or DALI-2 enabled devices such as MEAN WELL's ELG, PWM and LCM series LED drivers in either DALI or DALI-2. It will also accept inputs from up to 2 x 12 DALI or DALI-2 input devices such as sensors or switches.  
A firmware upgrade means the DLC-02-KN is now compatible with DALI, DALI2 & DT8 LED control gear, including CCT and RGBW devices.  
ADM already has stock of units that have been upgraded with the new firmware. 
KNX USB Interface 
The MEAN WELL KSI-01U is an interface for bidirectional connection between a PC and the KNX installation bus. 
The USB connector has a galvanic separation from the KNX bus.  
It can be used with standard software like ETS and EITT. Other software is handled by the FALCON driver. No additional power supply is required. 
The KSI-01U supports long messages (up to 220-byte APDU length) and aides easy handling in software under operating systems not supported by the FALCON driver. 
KNX IP Routers 
The MEAN WELL KSR-01IP and KSR-02IP IP routers allow the KNX bus to be connected to a network for programing and control purposes.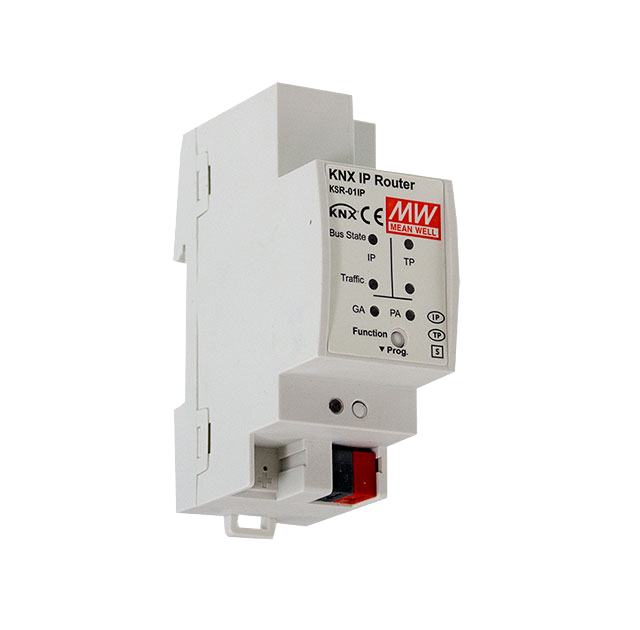 This opens up the KNX system to the world of IOT so that it can be used with third-party software and assistants. 
The KSR02IP features KNX Daya Secure that encrypts telegrams to stop any potential breaches to the system. 
KNX Line Coupler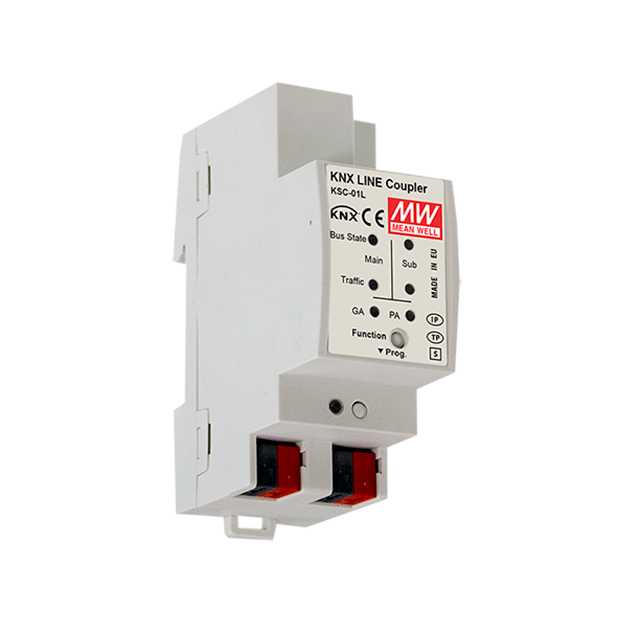 The MEAN WELL KSC-01L is a simple line coupler that can join 2 different KNX lines. 
MEAN WELL KNX LED Drivers  
ADM stocks a range of LED drivers from MEAN WELL that have a built-in KNX interface.  
The benefit of using a LED driver with a built in KNX interface is that the need for a DALI ~ KNX gateway is eliminated. This results in a lower cost installation, by reducing the number of components required.  
The MEAN WELL PWM series of constant voltage LED drivers have a PWM output for even dimming, regardless of the load on the LED driver.  
They also have an IP67 ingress protection rating, so they are resistant to moisture ingress. If you wish to mount these outside, please be aware that the plastic casing is not UV stablised.  
No LED driver should be mounted in direct sunlight, as this could cause the temperature inside the driver to increase beyond its maximum temperature rating. This has the potential to cause a failure, that would not be covered by the warranty.  
The MEAN WELL PWM series KNX LED drivers can dim to 0.01% and have a user changeable frequency of up to 4kHz for low flicker operation for IEEE1789-2015 & EU Ecodesign Stroboscopic Visibility Measure (SVM) requirements.  
All models come with a 5-year manufacturer's warranty.  
The MEAN WELL LCM series LED drivers have constant current mode output, with multiple output levels selectable via a dip switch. There are 3 models in the series: 
These LED drivers are the first in the World to feature a built-in KNX interface.  
All three LED drivers have an input range of 180~295VAC and selectable output current levels as detailed in the following table. Please note that the actual power output of the LED driver depends on the selected output current.  
| Model | Selectable Outputs |
| --- | --- |
| LCM-25KN | 350mA, 450mA, 500mA, 550mA, 600mA, 700mA (default), 800mA, 900mA, 1050mA  |
| LCM-40KN  | 350mA, 450mA, 500mA, 550mA, 600mA, 650mA, 700mA (default), 750mA, 800mA, 850mA, 900mA, 950mA, 1050mA  |
| LCM-60KN  | 500mA, 600mA, 650mA, 700mA (default), 750mA, 800mA, 850mA, 900mA, 950mA, 1000mA, 1050mA, 1100mA, 1150mA, 1200mA, 1250mA, 1300mA, 1400mA  |
The high efficiency of these new LED drivers (up to 90%) combined with the fanless design, results in a case temperature range of -30°C ~90°C case temperature under free air convection. They also feature a push dimming interface.  
The KNX interface allows information such as operation hours and power consumption to be read from the LED driver.  
The CLO (constant light output) function allows for the light intensity to remain constant over the long operating lifetime of an LED, despite the ageing of the LED chips.  
Up to 10 LCM-xxKN series KNX LED drivers can be controlled simultaneously via the built-in master-slave circuit, thus providing outstanding design flexibility for interior LED lighting systems. 
KNX Products from Vimar 
Vimar's range of control modules includes:  
Light gateways  
DALI 2 gateways  
Toroidal current sensors  
Phase cut dimmers  
Programmable modules  
Touch screen panels  
The Vimar solution is modular, so there is a solution for most home and building automation applications.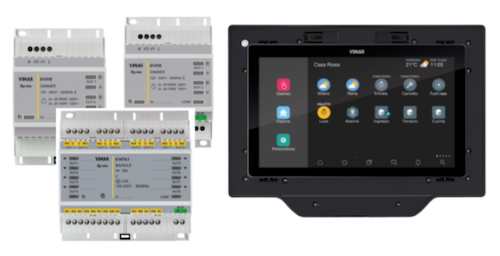 Vimar offers building automation and access solutions that can be integrated with KNX, DALI and DALI 2, communication panels and CCTV systems.  
Life is made easy for installers via the View PRO software, which allows you to create a topology of the building, run diagnostics and conduct maintenance tasks.  
When it comes to lighting control, you can program multiple scenarios and can control when lights turn on and off, what the light level should be, and you can also control RGBW light gear. In fact, you can even integrate a Vimar home or building automation solution with Phillips hue (hub required).  
The control of gates, blinds, roller shutters, and much more can be automated with the Vimar home and automation solution.  
Vimar makes life easy for the occupants with their user-friendly software, which is compatible with a KNX system. 
This gives the occupant full control of the house, allowing them to control elements such as:   
HVAC  
Lighting   
Motors (gates, blinds, etc.)  
Music and entertainment  
Energy metering  
The system can be controlled through Google Home, Alexa, and Apple home kit.  
Of course, the occupant can also access the automation system remotely, allowing them to switch lights on and off, adjust the air conditioning, access the security systems CCTV camera, etc.  
Where Do You Start?  
To get started, contact ADM with your application requirements. We will then look at the specifications of your project and advise you of the components that you need to achieve the desired outcome.